1. Introduction
On 20 June 2017 the Intermediate People's Court in Wuhan (IPCW) became the first PRC court to recognize a US judgment. This judgment in combination with previous recent developments in the PRC ("China") could have a significant effect on the way foreign judgments are treated by PRC courts, and make widespread recognition of foreign judgments possible in China.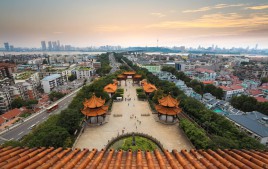 2. The Case
The PRC court recognized the decision of the California Superior Court for the County of Los Angeles in the matter of Liu Li V. Tao Li and Tong Wu. This case revolved around an alleged equity transfer breach and the fraudulent misappropriation of $ 125,000 by Tao Li and Tong Wu. All parties had a Chinese nationality. The judge entered a default judgment against Tao Li and Tong Wu, since they evaded the service. Liu was awarded $147,492. The execution of this judgment proved to be impossible in the US, so Liu proceeded to execute in China. The matter was heard in Wuhan, as both parties appeared in court.
Article 282 of the PRC Civil Procedure Law states that PRC courts will recognize and enforce foreign judgments or rulings whenever this is required by:
(i) a multilateral or bilateral treaty concluded or acceded to by PRC; or
(ii) the principle of reciprocity
provided that the judgment is not in violation of the basic principles of the PRC law or sovereignty, security or the public interest of the PRC.
Seeing that the US has not entered any multilateral or bilateral treaty with China concerning the recognition of judgments, the PRC court could only recognize the US judgment on the ground of reciprocity. The IPCW held that such reciprocity was established between China and the United States by Hubei Gezhouba Sanlian Indus. Co. v Robinson Helicopter Co., a judgment of the U.S. District Court for the Central District of California. The court further held that the recognition and enforcement of the US judgment in this case would not harm the sovereignty, security or public interest of China pursuant to article 282. Therefore, the principle of reciprocity could be applied to this case.
3. The Implications of the Judgment
So, does this case open the door for other foreign judgments to be recognized in the PRC? Well, not necessarily. It is important to remember that China does not have a common law system and that therefore Chinese judges are not bound by precedent in the same way as common law judges are. Whether other judges will follow this trend set by the IPCW is still unknown and rather doubtful. On the other hand, it is not the first case of its kind, as the Intermediate People's Court of Nanjing also recognized a judgment (by the High Court of Singapore) on the basis of reciprocity in December of 2016. Furthermore, the Supreme People's Court of China issued an opinion in 2015 encouraging Chinese courts to enhance international judicial assistance and to promote mutual recognition and enforcement.
It also remains to be seen how the 'the basic principles of the PRC law or sovereignty, security or the public interest of PRC' play out in the context of reciprocity. This particular case revolved around three Chinse nationals and no SOEs were involved, nor any foreign national or corporation. It is not unforeseeable that Chinese courts will (continue to) protect Chinese SOEs, manufacturers and citizens against foreign opportunist trying to execute foreign judgments in China.
It is important to note that if a Chinese counterpart has assets outside of China, foreign court judgments may suffice to go after such assets if bilateral treaties exist between the country where the judgment was issued and the country where the assets are located. In all other cases, companies working with Chinese counterparts are much better off using other venues for dispute resolution.
4. More Effective Remedies
Considering that China is one of the 150 signatories of the New York Convention on the Recognition and Enforcement of Foreign Arbitral Awards, international arbitration tribunals worldwide remain the best (and often only) option to pursue a Chinese defendant without assets outside of the China, though it must be noted that also execution of foreign arbitration awards in the PRC is far from guaranteed, with some internal bar association studies showing Hong Kong arbitration award enforcement took place in barely half of the cases reviewed.
More effective and powerful ways to pursue a Chinese counterpart with assets solely in China, include the following:
PRC courts – The reputation of Chinese courts, especially in big cities, has increased significantly over the past years, with China being ranked number 5 (!) globally by the World Bank when it comes to enforcement of contracts, with courts issuing judgments within an average of only 496 days with cost of only 16% of the claim value (http://www.doingbusiness.org/data/exploretopics/enforcing-contracts). Along with the speed and low access barrier of courts, China has also tackled corruption and local protectionism in most major cities, make Chinese court an efficient and effective means to resolve your dispute.
International arbitration in China – Besides not facing many issues enforcing arbitration awards issued by international arbitration tribunals based in China, the additional advantage is that the claimant can apply for freezing of assets with PRC courts based on a to be filed or pending arbitration case – something that in case of international arbitration outside of China can only be done with a final award and subsequent recognition by PRC courts.
Companies are highly recommended to have relevant dispute resolution clauses in their business contracts to ensure above venues in China can accept their case.
If now is the time to review your contracts with Chinese counterparts, or if you have a dispute that may benefit from being resolved in the PRC, you may contact the author for a strategy discussion.
Author Robin Tabbers is a Director with R&P China Lawyers, a PRC law firm exclusively supporting foreign companies with a business interest in China. As a full-service firm, R&P assists with corporate/M&A, litigation, arbitration, IP, employment, tax, compliance, and commercial matters.