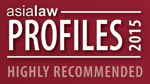 R&P is thrilled to announce that in the most recent edition of Asialaw Profiles (2015), the firm comes highly recommended in three categories: Corporate / M&A, Dispute Resolution, and Labor & Employment.
We are proud that Asia's leading directory for legal services has again recognized R&P among China's best law firms. That such recognition now extends to three of the firm's core practice areas is a credit to R&P's focus of providing foreign and foreign-invested companies with a comprehensive range of services at a very high level.
Main work in these fields in 2013-4, provided across China from offices in Shanghai and Beijing, included the following:
Mergers, acquisitions of asset and equity, company set-up, joint venture negotiations, relocations, exit strategies (incl. company, rep. office liquidations;
Litigation, arbitration in China and abroad (incl. ICC arbitrations), IP enforcement;
Employment documentation (contracts, handbooks), employment handovers and termination, compliance training and investigations, employment disputes.
Click here to see the link:
http://www.asialawprofiles.com/JurisdictionFirm/8574/39/RP-China-Lawyers.html